Murder in the North End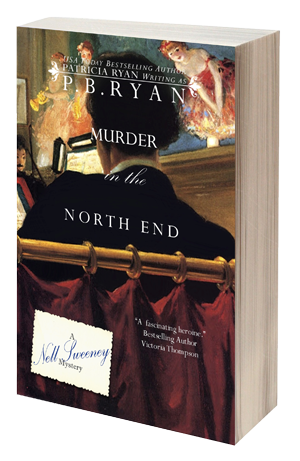 Book 5: Nell Sweeney Mysteries
July 1870: Nell Sweeney's position as governess for the venerable Hewitts of Boston affords her a unique perspective in an era of sharp class distinctions. Neither servant nor gentlewoman, she can fit in among the denizens of a waterfront tenement or the bluebloods of Colonnade Row. But there are many of the latter who regard her as just another good-for-nothing Irisher.
Nell is shocked to learn that her friend Detective Colin Cook is a fugitive from justice, having reputedly killed a petty criminal in a North End concert saloon called Nabby's Inferno, after which he fled the scene of the crime. Cook's nemesis on the force, the loathsome Constable Skinner, thinks Nell knows where the Irish detective is hiding. She doesn't, nor does she believe that Cook is capable of murder. To gather evidence in Cook's favor, Nell must venture into the most depraved and crime-ridden neighborhood in the North End. William Hewitt, back home from his sojourn in Shanghai, isn't about to let her undertake such a dangerous investigation on her own. Posing as petty criminals, they infiltrate the so-called "Murder District," but the more they find out, the more hopeless it looks for Cook.
Originally published by Berkley Prime Crime.
"Plucky Nell and her helpmate Will are well-developed characters who are likeable and smart. The cast of supporting characters in this book is colorful and well drawn, making the book an easy read. All of the books in this series are enjoyable; Murder in the North End is no exception….I eagerly await the next [Nell Sweeney] mystery."
~ Cozy Library