Death on Beacon Hill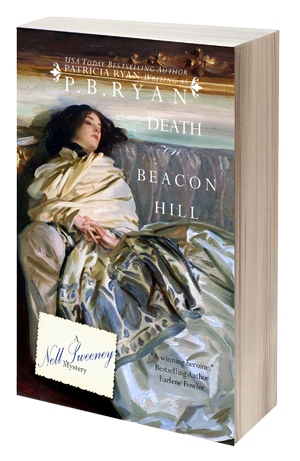 Book 3: Nell Sweeney Mysteries
Boston, 1869: As governess to the wealthy Hewitts, Irish immigrant Nell Sweeney belongs to no particular caste—hers is halfway between her brethren and the Brahmin. But now, a double murder involves both maid and mistress—and it will take cooperation by rich and poor alike to solve it.
All of Boston is talking about the murder of Virginia Kimball. The famous actress, past her prime but still a renowned beauty, was found shot to death in her Beacon Hill townhouse, along with her young Irish-American maid, Fiona Gannon. Evidence suggests the two women traded shots after Virginia came upon Fiona trying to steal her famous diamond necklaces. Devastated by this news, Fiona's uncle, who serves as driver to the wealthy Hewitts, begs Nell to find out what really happened.
The Hewitts' estranged son, Will, accompanies Nell as she investigates Virginia's scandalous romantic liaisons. It turns out there are quite a few people who might have wanted her dead, particularly her rich and powerful lovers, whose amorous exploits she recorded in a red leather-bound journal—a journal that has been missing ever since her death. Now, terrified men all over Boston, once blackmailed by the actress, will do whatever it takes to make sure her infamous "Red Book" never sees the light of day.
Originally published by Berkley Prime Crime.
"Sick at the slander that says his niece murdered Virginia Kimball, Brady, a driver for the wealthy Hewitts, asks Nell Sweeney to investigate her death…with the help of the Hewitt's black sheep son, Will…Death on Beacon Hill continues Ms. Ryan's excellent Nell Sweeney series. The rich characterization and her strong evocation of place, coupled with a well-plotted tale, make for a rich story. Add a clever conclusion and Ms. Ryan delivers a fascinating read."
~ Fresh Fiction